food

- 4 kidz
Some of the hundreds of children in the slums we feed every Saturday. Even a simple meal is better than no meal!! After their meal they finish off with a banana (from the Bananaman project'). Games and other activities follow to help them develop their characters, friendships and team building, all necessities to help them in their future lives.
WHeelchairs

- give freedom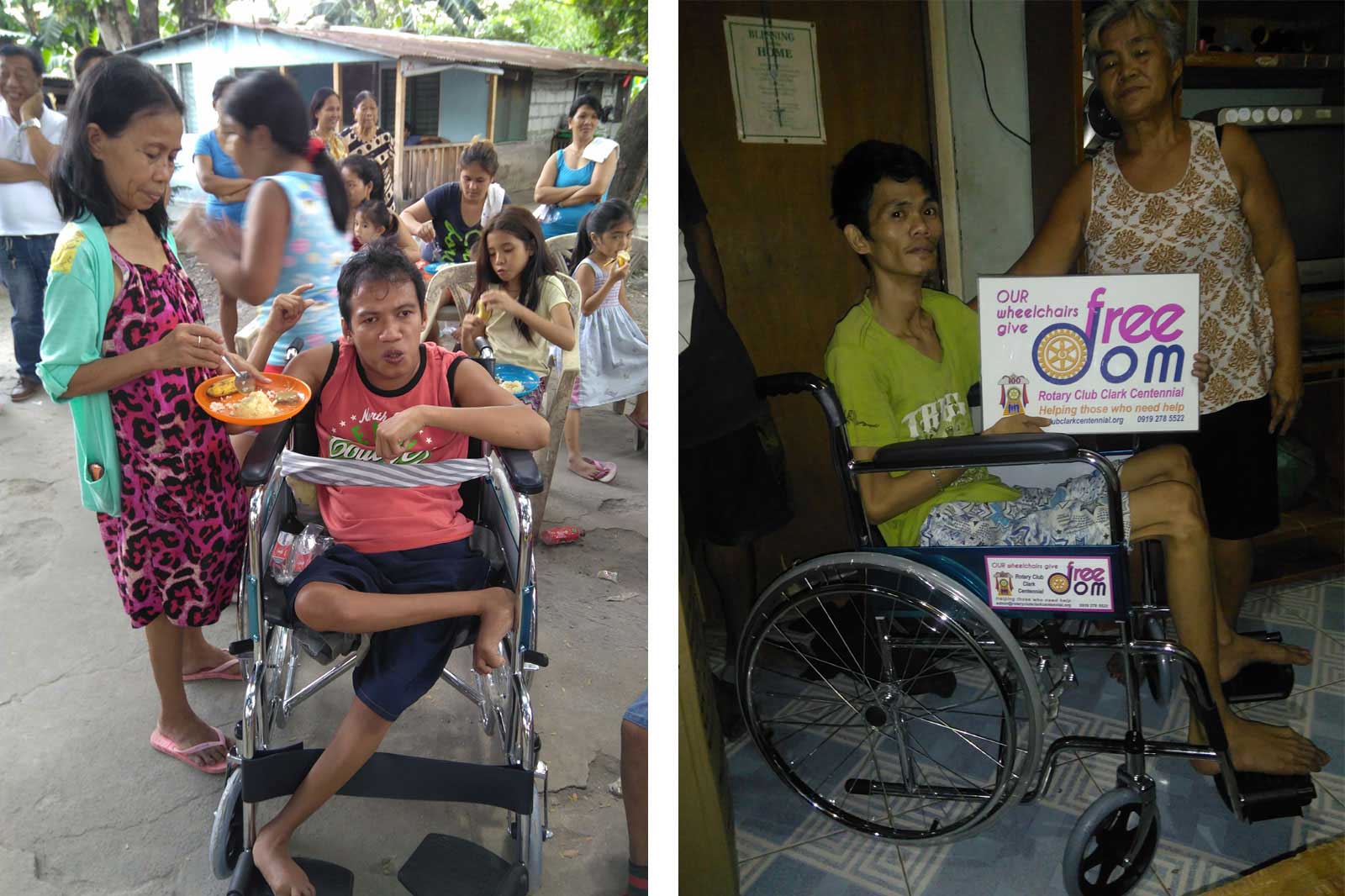 Giving a wheelchair to a house bound senior citizen is a life line for them, it gives them freedom from the 4 walls which surrounds them, lets them have fresh air and sunlight, both important for the health. Also they can visit places they could only dream about - shops,
neighbours, church and many other places.
WHAT WE NEED

- to help the children

Dried and canned food to feed undernourished familes and children in our feeding programs.

Clothes in good condition suitable for babies and young children in care. Often the only clothes they have are what they are wearing.

Diapers always needed for the babies in care.

Financial aid to buy fresh fruit for under nourished children.
SPONSORS

- how you can help

You can sponsor a child or adult so we can provide them with food or clothes or medical aid and care over a period of time. Let us know how you wish to sponsor someone and we will make a program with you. Contact us.
MEDICAL HELP

CLEFT LIP AND CLEFT PALATE

are one of the more common visual conditions affecting babies. Without surgery at a very early age the chances of having a happy youth and social life are reduced. In later life their self-esteem may wan and even result in psychosocial problems due to their appearance. They also face eating and speech difficulties as well as dental problems. Early surgery can reduce these to easily manageable levels for their future.

GIFT OF LIFE

providing major heart surgery for children with Chronic Heart Disease in a joint project with the Rotary Club of Siacity, India. We assess the patient and have necessary medical tests done which are then sent to India. If accepted in to the program for the free surgery in India, we then fly them and a parent to India for their surgery.

SIGHT AND SOUND

For children with hearing problems, after their assessment we can usually provide hearing aid(s) to open up their world of sound, an obvious improvement for their learning abilities and social life.

Visually impaired children benefit from various aids - special computer programs for text to speech, Braille typing machines and the special paper needed for the raised impressions, sweeping canes and other items to enhance their learning and every lives.

PROSTHETICS

allow amputees to lead a normal life with being able to walk more naturally. Above and below knee amputations are catered for.

CATARACT

surgery gives both old and young the ability to see again, giving them a better and safer life.